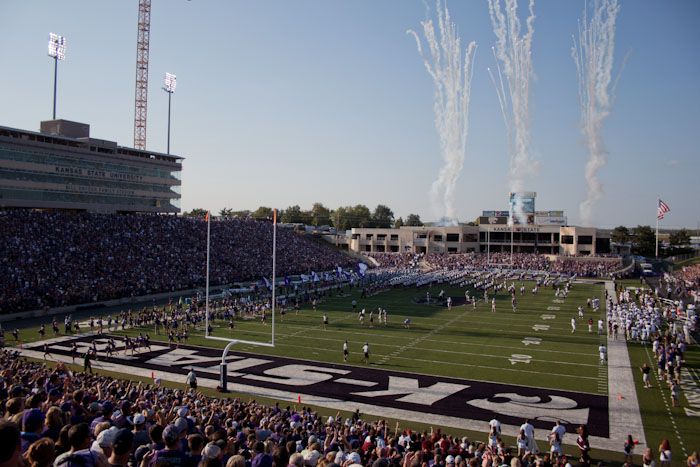 There is a point late on Friday night or early on a rushed Saturday morning where I think "OH GOSH! Going to Manhattan is
a lot of work
." Without fail, I wonder
why
we do so much scrambling around to drive two hours to hang out in the heat or cold.
And then I stand in the stands. The first thing that moves me is singing the alma mater. Then I get so excited watching the players in the huddle, moving back and forth as the crowd screams, and then they're off! Sprinting down the field with fireworks, the crowd yelling and clapping, and we're all ready for kickoff.
Saturday was hot so there's no photos of everybody from the game, even though we were all there. We felt hot, sweaty and not very pretty before the game while we ate delicious burgers with green chiles from the Southwest, cold Mich Ultra and lots of fruit salad. The Cats beat Missouri State (as they should have) and as the evening cooled off, we really enjoyed ourselves.
The girls (Anne, Erica and I) drove up together and had a lovely chat while we drove. During the game, I sat right between my buddies Kenneth and Jon and catch up with then between plays - I have to remember to stop jibber jabbing sometimes because they're watching closely!
I'm sure this Friday night when I'm tired from the week and scrambling to get ready for the early game against Miami that I'll feel the same way. And when I'm back in the Bill on Saturday morning, I'll remember again why it is all totally worth it.