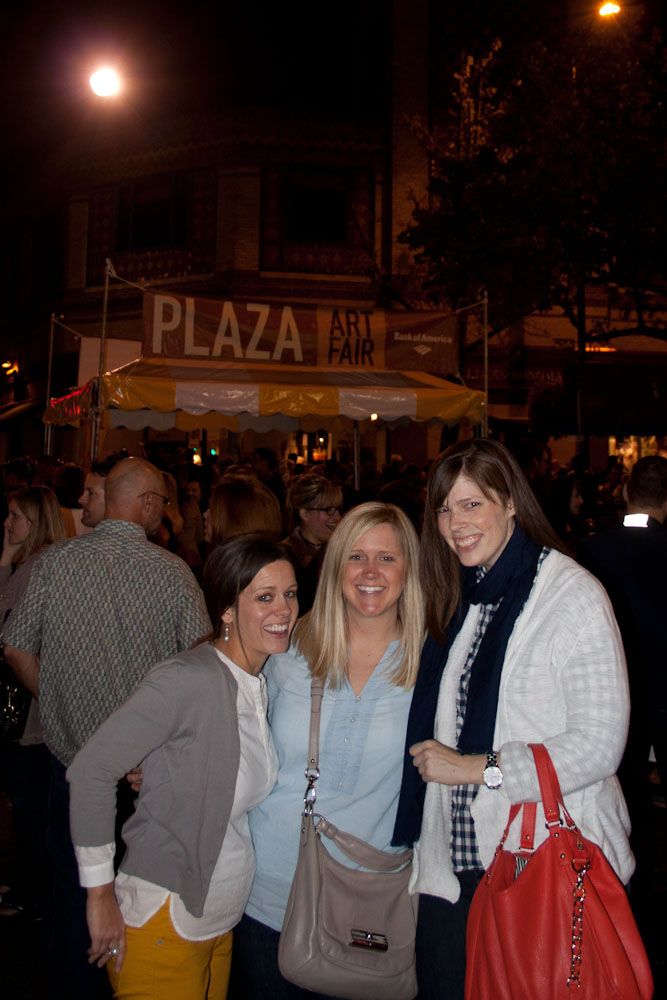 HEY! Before you read (and comment, right?) about the crazy adventures at the Plaza Art Fair, click over and support Rachel's effort to raise money for Everyone Should Get to Run (if they want to!). She's raising money to fix a little guy's club foot in honor of her 8th marathon. I'm so proud of her, proud that our little buddy Finley can run and hope that you will join us in supporting this awesome project. With a great name. Because I actually don't want to run.
Last Friday we went to the Plaza Art Fair and had a grand old time. We were also reminded that I am terrible at math. I had three beers but miscalculated how many ounces of beer were in each cup. Anne's husband Ashley informed me I actually had more like five beers which explains why that spin class was SO hard on Saturday morning. Whoops. I'm more of a reader than a mathematician anyways.
It was crazy crowded at the Art Fair, but the night was perfect. We saw lots of people we knew and spent a little bit of time poking around in the different booths. My friend Abbey is the only person I know who always finds something to buy - she has a good eye for finding reasonably priced art and actually has artist friends that she always goes to see at the fair!
Our favorite incident of the night was running into some ladies we knew who asked if we had many any purchases. "Um, no..." we replied, most of it was way out of our price range.
"Neither have we! And this is the kind of place we can drop $3400 like its no big deal. The Plaza Art Fair is like our Target!"
And...scene.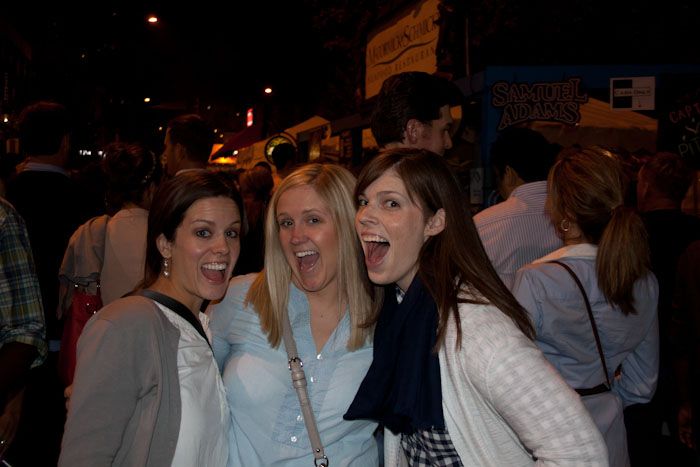 This fall is a fun one for fashion. We're finding excuses to embrace the trends. Erica got mustard skinny jeans, I got a brand new bag that my friend
Katherine
lovingly calls "BIG RED!" Her pants and my bag are two of favorite POPS of color, and they are pretty in your face! I'm currently on the hunt for the perfect new flats that have cap toes and fit my long skinny feet.
This blog will never be a fashionista blog, but fall fashion is both a fun thing and a challenge for us. At least 1/7 of every week is football related, and we are always sporting purple. (Did you see that our Wildcats are in the Top 10?!) So sometimes it's fun to put together the clothes for the other fun activities of the week!