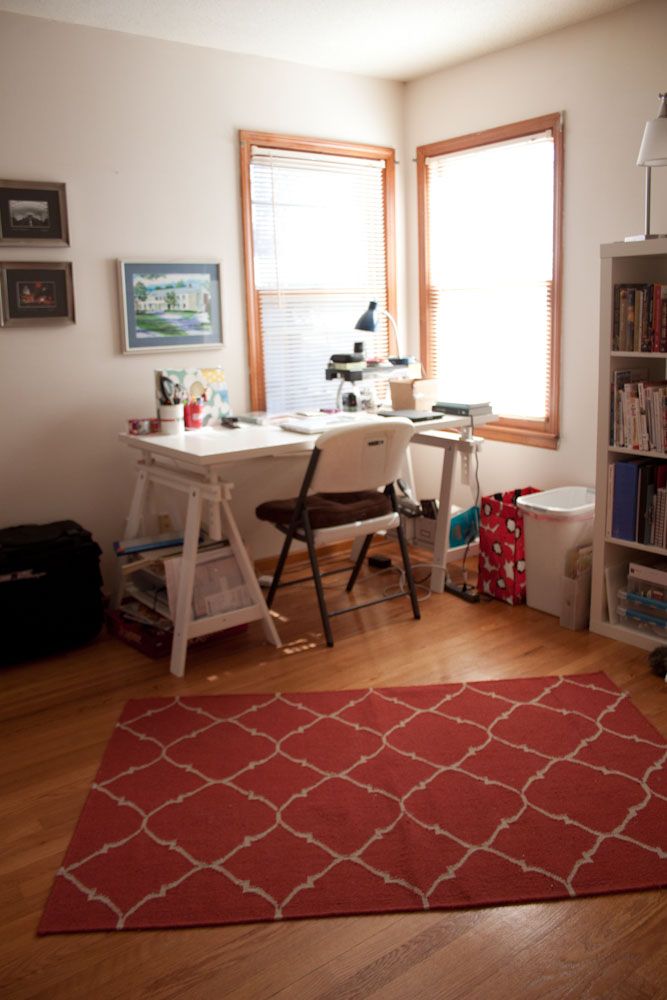 I have an office in my house, right in the back of the house with good morning light. I think that is one of the best things about my little house. For the first time since high school, I don't sleep in the same room as any screens. My ipad and computer sleep (and recharge) in the office. My only tv is in the living room. I use a regular old alarm clock so even my phone isn't by my bed.
Having my computer in another room makes me feel exceptionally grown up and less like I'm living in a dorm where I eat, sleep, compute all in the same room. I love this little office. My crafting supplies are handy, and my big work desk from Ikea allows me to keep several projects organized at one time. I have room to be creative and productive.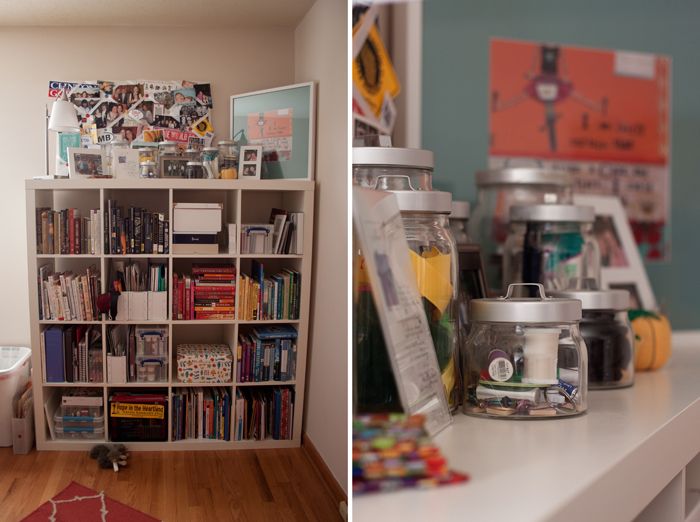 This room is actually very Ikea-ed - the
trestle
desk, the
Expedit bookshelf
and even all the white boxes and little jars that cover the top. The furniture I moved home unassembled, and it was lovingly built by Erica's husband Jon and my mom and me. Just kidding. There was little love. Sometimes Ikea furniture is a pain.
Rachel and I were originally obsessed with buying the little jars to fill them with candy and snacks for parties. But now they're filled with crafting supplies - extra blades, thread, lollipop sticks, paint brushes, ribbon. And my button collection. Because everyone has a button collection, right? (Please don't correct me if I'm wrong.)
I found the rug on sale by Surya on a
One Kings Lane
sale, and it was delivered to Jon and Erica's before I moved home. That's how sure I was that I wanted it for this little room. Belle is often laying on it, chewing on a bone or her squirrel. She could not be coerced into a photo shoot.
The art on the walls is a mismatch of Kansas and Virginia/DC, just the way I like it. After a while I was less concerned about what "matched" and put pieces up that mattered. Like my favorite
Curly Girl Print
.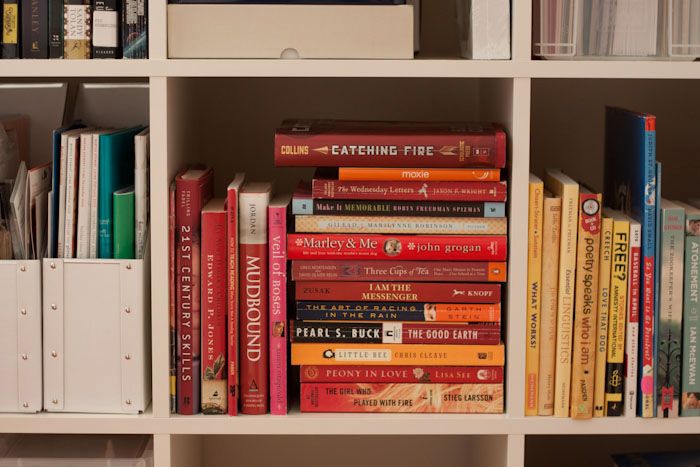 And even though I have a new square bookshelf, I
still have all the books
arranged by color. You know you want to too so just do it.