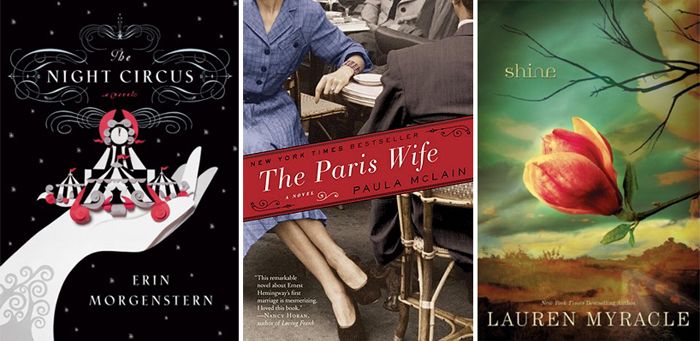 Before we get to the books, an exciting announcement related to everyone's favorite
bumble bee shower
. Yesterday afternoon it was
featured on Amy Atlas' blog
, submitted by someone who purchased the items from the etsy shop. Totally a surprise to Rachel and me, but a really awesome surprise. If you don't know who Amy Atlas is, that's okay, but you should. Here's her
bio
. Sure it's not my party, but it is my design, and Amy links back to the store. That's pretty close to the big time for me. I'll take it.
Now for the books. It's a good thing we had Thanksgiving break or I might have only finished The Night Circus. I squeezed in two more books over the break!
The Night Circus
was my book club pick. I was a little confused after the vote for the book, but we ended up glad we had read this book. It is a total fantasy - magic and mystery surround the circus at the turn of the last century mostly in Europe and New York. I liked it because it was so totally different than anything else I've read this year. I tried to research fair/circus food so we could do it up with a theme, but ended up with
Giada's winter minestrone
(super yummy) and
homemade cracker jacks
. I can not get enough of that popcorn. I'd recommend the book if you like fantasy books. It's got a love story tucked in there too, but the mystery and magic is where the best parts of the book are.
The Paris Wife
tells the story of Hemingway's first wife, Cat, and their years in Paris. It totally IS a love story. It reminded me of Loving Frank, about Frank Lloyd Wright. You can see on the cover that the author of Loving Frank liked The Paris Wife.
Obviously
. I read this really quickly - probably in about two days - and really enjoyed it. I saw Midnight in Paris last summer and am interested in the lives of those crazy artists and writers in Paris in the 1920s. Occasionally it felt a little trite and imagined, but for the most part I really did like it. I can't make myself say that I loved it, but I did really really like it.
Shine
is the third book I've read that was a finalist for the National Book Award for Young People's Literature. It's just barely for young people as the story is about teenage students/drop outs in Appalachia that are wound up in meth, a very very violent hate crime and a mystery. It was really difficult to read, but it might be my favorite of the three books. Three days later, I can't stop thinking about the characters, the plot and the ending which OH WHEE took my breath away. I finished it flying home from Indiana and my hands were sweating as I nervously finished the book. I don't know anything about Winter's Bone, set in the Ozarks, but I wonder if this could be similar in some ways. The book is probably the most coarse and graphic young people's book that I've read in a while, but it seems to be real life.
Up next: The Buddhas in the Attic, Christmas Train and a couple other things I've downloaded to the Kindle but not started yet. Maybe Cutting for Stone? I hear really good things about that book too!