My beloved domain is still not up and running. But there is hope, and I have a few humans who are helping me now. That means I'm writing fewer emails in all cap letters and trying to get a few other projects done instead. I am still very frustrated by the whole process. If you are reading in google reader, click on over, and you will find the blog at victoriaINvirginia.blogspot.com. So all is not lost.
I showed you the
pretty quilt
we made for Nanette already, but there was a lot more to the shower at Anne's house. The theme was a "Vintage Baseball Shower" because Nanette is a die-hard Royals fan. Anne pulled out all her old baseball items and her house was the perfect place for a Sunday afternoon shower.
One of my casual sewing projects of the summer was homemade fabric buntings. Mom helped me put this one together because it was rather last minute, but I love how it came out. The triangles are sewn inside out and turned, pressed, and sewn together tucked inside a long piece of bias tape. The sign and astroterf runner came from Nato and her
son's fifth-birthday-party
. Reuse. Save the earth. Make a friend.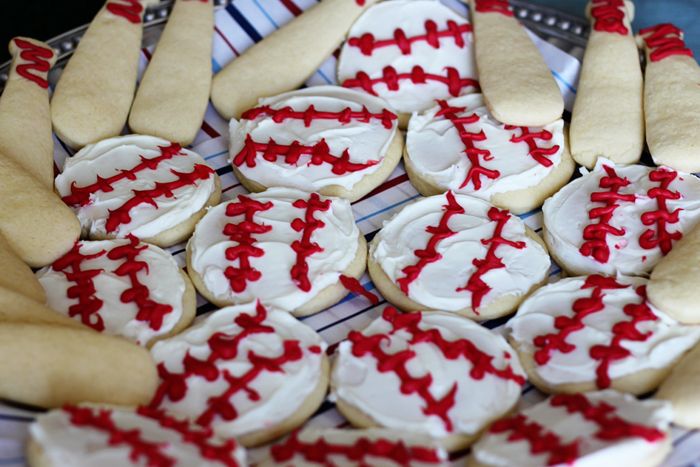 Anne frosted some spectacular baseball cookies. I love all things sugar cookies. Especially this homemade recipe of Anne's that I used
earlier this spring
. Tara made delicious cupcakes for dessert. Twice the sugar, twice the fun.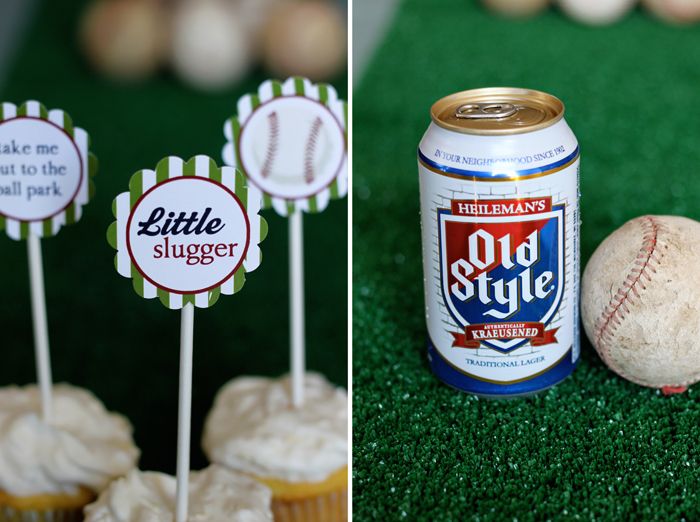 Obviously a baby shower is a great excuse to have cute stuff on etsy (
check out the new baseball section
!) I designed the invites, cupcake toppers, thank you cards, water bottle labels and tags for favor bags. We served Old Style, everyone's favorite beer. Or at least at Wrigley Field.
Anways, it was goooooood. It went perfectly with our hot dogs and nachos. We used the real nacho cheese and not velveeta. It was baseball grade nacho cheese, and it was very popular.
These are good party planning tips: basic food can be classy. It's all about presentation and theme.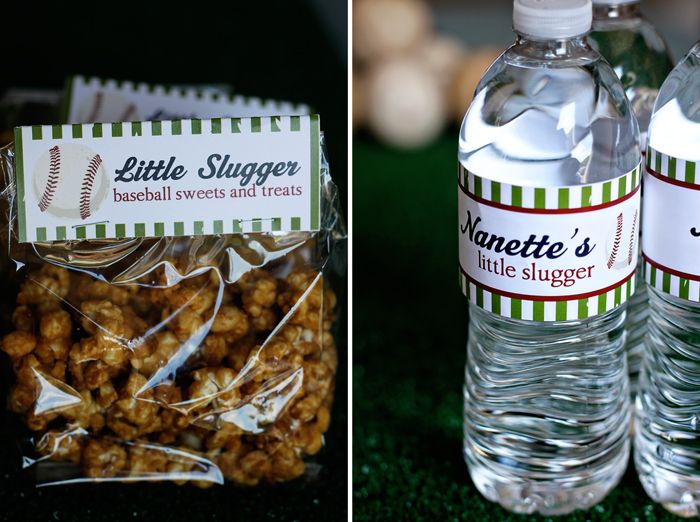 For the guests to take home, I made
homemade Cracker Jacks
. The hardest part was popping the popcorn without a popcorn maker. But it was so worth it. Mom, Lauren and I were loving it right out of the oven, and I want to make it again for football games this fall!
The guests in attendance are all book club members + Leah's sweet baby. We're dressed casual because we thought "sports fan attire" would be the most comfortable. But I did warn everyone I wanted to take pictures of our whole book club together. And I did it paparazzi style which meant rapid fire flashes and some interesting posing. These are my three favorites.