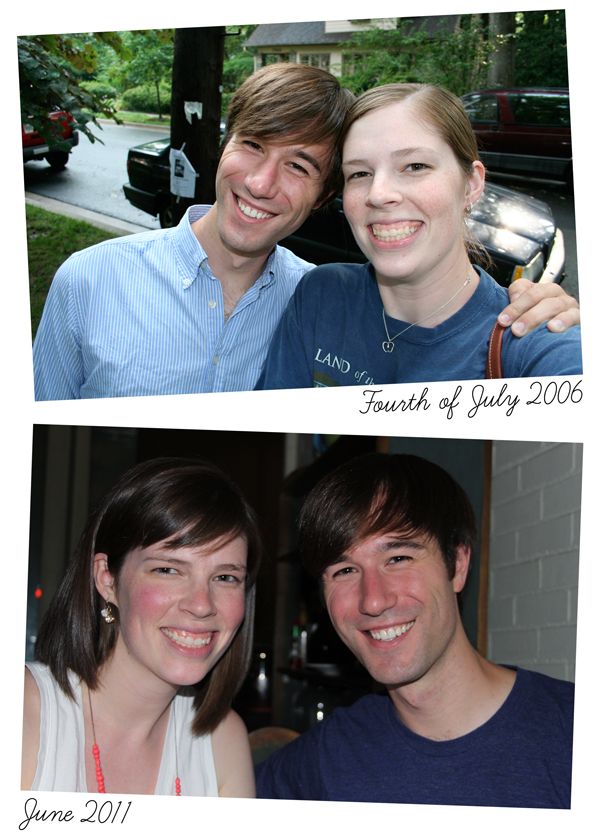 I spent far too long analyzing these two photos to decide if we looked any older. I think I look older - in a good way. And I think my friend Tyler doesn't look older, also in a good way. My hair is darker and not because I dyed it. It has a mind of its own, and I'd rather buy nice clothes than dye it back to the shade of my youth. I would like to point out (even though you can't see much of my outfit in this photo), that my taste in clothes has vastly improved. I'm wearing a t-shirt from the SMITHSONIAN in the first photo. It has a picture of the Star Spangled Banner on it.
I think I thought it was funny. I still do, a little bit, and have the t-shirt in my drawer. I just know now not to wear it in public.
Tyler looks swell for all the hard work he's been doing at, you know, Oxford and NYU law. I am humbled by the things he knows and the places he goes. He's in town for a summer externship at the World Bank. We had dinner tonight, and I invited myself to the cafeteria at the bank next week.
I love that place
. We are Truman friends and were very close the summer we lived in DC. It was fantastic to see him tonight in the city and catch up. We also met up with another Truman from our class, and I love to hear what they're doing.
It's funny because yesterday at grad school we were writing about the communities we are a part of in the world. And I listed the Truman one. Because even though it is often months (and years) in between visits with these friends,
they are fantastic people I love to see
. They inspire me and
push my thinking
. I like that.