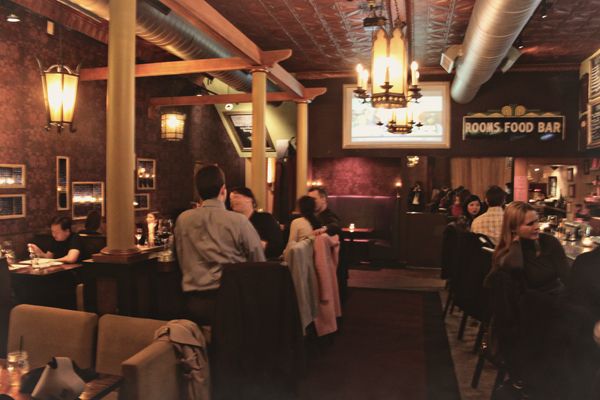 We went to Supper Club on Wednesday night, a much smaller group of just Kate, Jill D., Aimee and I at EatBar. But I think it may have been my favorite place we've been with the club. It was cozy, and the four of us sat in the little sofa booth that's in the bottom left hand corner. And we ordered a sampling of the menu. It was all really really good, and I came home raving about it. I'd like to go back again soon for the risotto fritters and the banana split dessert that was served on a waffle with nutella.
I told Rachel and Sol I would watch Finn so they could try to squeeze in a date and go to EatBar before baby #2 arrived. We're still waiting on that baby, but as Rachel says, we just have to get through Finley's two-year-old birthday on Saturday, and then we'll be all set. Can't wait to have another little guy in the house! It's like we've been waiting
months
for his arrival. (I plan on forcing her on long walks and making her eat spicy Mexican.)
At my day job, my students took a test, and they passed. All of them except like two kids. This is a MAJOR improvement from recent weeks. I think the material - economic basics - is a little bit easier, but I also think we all worked our rears off with the information. Kids love to talk about money.
Also exciting news from the world of eighth grade, last Friday I took my kids to the courthouse. Twenty students applied and were selected to go, and they came all dressed up in their finest. Boys in suits even! The trip was awesome. I cried when my little babies stood up to ask the judge questions and said, "Your honor..." before they asked their questions. When did they grow up? And why are they so naughty at school? We got to see motions in a civil trial and a little bit of a criminal case. My students were twelve feet away from someone who was accused of murder. They have never been so excited. They argued all the way back to school about his innoncence.
If you haven't update your spring break countdown lately, we're still two weeks away. The third quarter is over Friday, and we have blessed teacher workday on Monday. I return to Kansas for spring break two weeks from Saturday.
Finally, on a television note... because Cougar Town is on hiatus for just a little while longer, I'll remind you to watch my other favorite under appreciated gem. Parks & Recreation. It's fantastic. Wonderful. And really really laugh out loud funny.