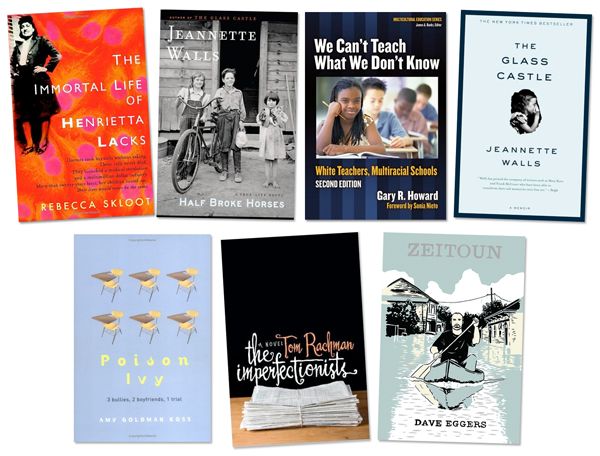 I can't remember the last time I read seven books in one month. It was probably B.G.M. (before George Mason) and definitely during a vacation. But never while teaching. But sure enough, I brought in the new year with seven books. Several of them are must reads!
The Immortal Life of Henrietta Lacks:
My friends in the Kansas City book club read this one, and I happily joined in. It's fantastic nonfiction, and the author weaves together science and medicine with a story of race based in Baltimore and rural Virginia. I'm not a huge science person, but the details are well explained, and I couldn't put it down.
Half Broke Horses and The Glass Castle:
These are perennial recommendations from our "book guru"
Candi
and I finally got some time to read both of them. I liked Half Broke Horses better, mostly because The Glass Castle is heartbreaking. I could also imagine the rough and tumble scenery of Half Broke better because my family loved vacationing into Colorado and the west. I would highly recommend both of these books - and if you haven't read The Glass Castle, start with Half Broke Horses (technically the prequel).
We Can't Teach What We Don't Know:
Required reading for grad school but interesting. He explains a lot of higher level theories conversationally, and it's a good read for teachers like me - white teacher working with a super diverse student population.
Poison Ivy:
Juvenile lit story of a brave/crazy middle school government teacher who decides to make lessons on the judicial branch come alive in her classroom by staging a trial. She takes a big risk and puts three popular members of her class on trial for bullying a girl named Ivy. It's good - it includes some great lessons about bullying, popularity and civil cases. Our great reading specialists ordered it for my honors classes, and I'm really excited to weave it into our judicial branch unit.
The Imperfectionists:
I really like short story books, and this one was no different. It's a collection of stories about the rise and fall of a newspaper in Rome. The main character in each story is different, but there is overlap between the characters so you get to know everyone a little better. At the end of the book, the author and Malcolm Gladwell (who is awesome), interview each other. That was a nice surprise.
Zeitoun:
Candi recommended and
Tara
read it before me. I distinctly remember TP saying how angry it made her - and I felt the same way. It's a post-Katrina New Orleans story, and it is frustrating and frightening at the same time. It is non-fiction, and I read it quickly to find out what happened. At several points in the story, I stopped and said, "I can't believe this happened in the United States."
Up next:
The Motivated Student
for my job and
Let the Great World Spin
. I'm excitedly waiting to hear what the book club picks for February too. I'm pretty sure that seven books will be my monthly record for a while until I finish with grad school in May/June. Got more good books for me? Leave them in the comments. I love personal recommendations!
(images via google and all over)