Our flight from Philly to Dublin was one of those lovely overnights that picks you up when you're not so tired at 9 pm and deposits you groggy and confused in another part of the world at 8 in the morning. That's the cool thing about air travel when you are coming home, but it's less cool when you're tired and want to set out exploring.

We talked about it in advance, and we decided to try several strategies to make the most of our first day in Ireland. Take Tylenol pm to sleep on the plane. Drink a nightcap to help sleeping on the plane. Eat good meals. Hot toddies. No naps. Cold weather and lots of walking. Guinness.

We were mostly successful but barely made it till 10 pm. I had been up for about 36 hours with a two hour nap and middle schoolers on Friday. 8th graders do me in on Friday even if I don't travel across the world.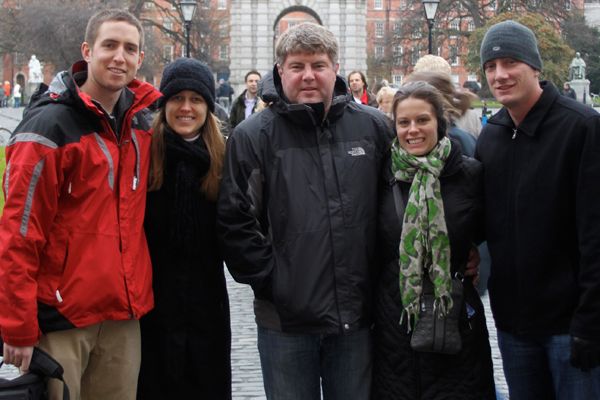 Here are my friends: Kenneth and Melinda who flew from London to Dublin to meet us, plus Jon, Erica and Dereck from Kansas City. These are some of our cold weather clothes. Prepare to see them a lot during this vacation.

Trinity College was beautiful - the book of Kells and the library with books arranged by size. This is almost as awesome as my books that are arranged by
color
. The tour guide did a great job telling us the history of Trinity. Later, we met someone who went to Trinity, and he implied sometimes the tour guides lie. This makes me like them even more.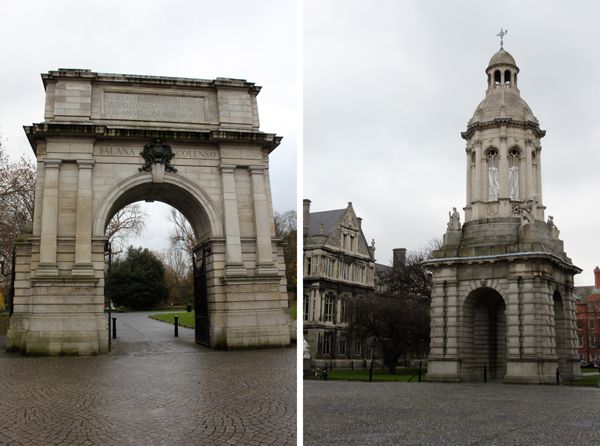 Dublin was super rainy while we were there. We carried umbrellas with us pretty much everywhere we went. This was definitely the wettest part of our trip - London was surprisingly dry while we were there.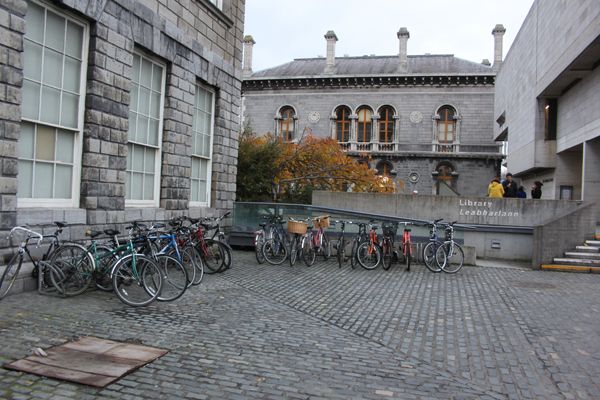 I love the bikes and lines in this photo. Trinity was a real school, with students scurrying around to study. You can see library written in two languages - the Irish take their language pretty seriously by making everyone learn it in school. But our tour guide told us that it is an illogical language to learn, so we stuck to English.
If we were to do it again, we probably would have benefited from a nap in fighting jet lag. The tough thing was that the
six of us
haven't all been together very much in the past year and a half. And we had so much to say and see and do...
Photos are posted raw and unedited to facebook. Keep coming back to the blog to see more of the photos with the stories. I'll be writing about this trip for the rest of my life. Or at least intermittently for the next few weeks.