Jennie and Joe arrived from
Bucktown
on Friday night. After a delicious, quick and cheap dinner of Peruvian chicken, we "suited up" for a night out in DC. We weren't headed to the clubs, but a very special location that took reservations and careful pre-planning - a speakeasy!
We rode the metro to the
Columbia Room
tucked away in The Passenger, just north of Gallery Place and Chinatown. We didn't spend any time in the bar at The Passenger, but it looked fun. And super chill. Instead we made our way back to an unlabeled door on the left. The only mark was a doormat with a C on it.
We met up with one of Joe's friends who lives in the District, and the four of us enjoyed one of the best nights of cocktails ever. There are two choices - enjoy the prepared menu complete with tastings or order a la carte. Jennie and I know little more about cocktails beyond what tastes good, so we went with the planned treats. Joe and his friend know considerably more, so they did lots of picking and choosing.
All the drinks were made carefully in front of us, each one easily taking five to ten minutes to craft. They cut their own ice each day to use in the drinks, and everything tasted so fresh. One of the drinks that Jennie and I had was a watermelon, basil, gin concoction served with fish tacos. We also had royal Primm's cups with chocolate mint, cucumber, lemon and prosecco. It made me extra excited for London! They also served us fancy truffle oil popcorn and FIGS!
The boys were more creative - Joe order a Ramos gin fizz, and the bartender was so proud of how it turned out that he made it for all of us. This drink has to be hand shaken for over ten minutes. There were only eight of us gathered in the small room, and it was so neat. I loved everything I tried - even the gin. I never liked gin before. I guess this is a lesson in the importance of good quality spirits.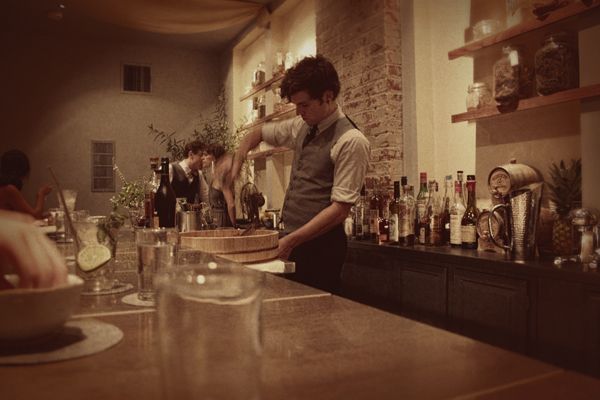 Sometimes it is just nice to have an excuse to dress up and try something new. I'd recommend the Columbia Room to experts and amateurs alike. There's another speakeasy in Alexandria that I might try with friends from school. And I hear there is one in Kansas City too. Just try it. It's good for your soul to have a cocktail and whisper secrets with friends.