My sister Lauren graduated from KU Law on Saturday, and I have about nine million (or 50) great photos from the weekend. We were so blessed to have tons of family there to celebrate, and my sister and her friends had a very fun party Saturday night on the Oread.
On Sunday, Mom and I drove back over to Lawrence to see the law students lead the procession down the hill. This is a serious KU tradition and families line the hill to see their graduate walk down and into Memorial Stadium for another ceremony. We knew Lauren wasn't planning to stay in the stadium, but she couldn't miss walking down the hill. The law students led the lines on the west side and the med students led the east side of the hill. Lauren's friend Jenna was in this line.
Mom and I were laughing to ourselves as people take their spots along the line very seriously. People didn't want to budge one inch for us to get a photo of Lauren and her friends on the hill, even though they weren't waiting for law students. But it all worked out fine, and there are some cute photos of Lauren and her friends in their robes, hoods and tams and as they passed us on the hill.
But my favorite photo from the day is one that someone else took. By pure luck, Lauren, in the law school line and Jenna, in the med school line, walked through the Campanile at the top of the hill together. And someone captured these besties triumphant walk as seen on the big screen in the stadium.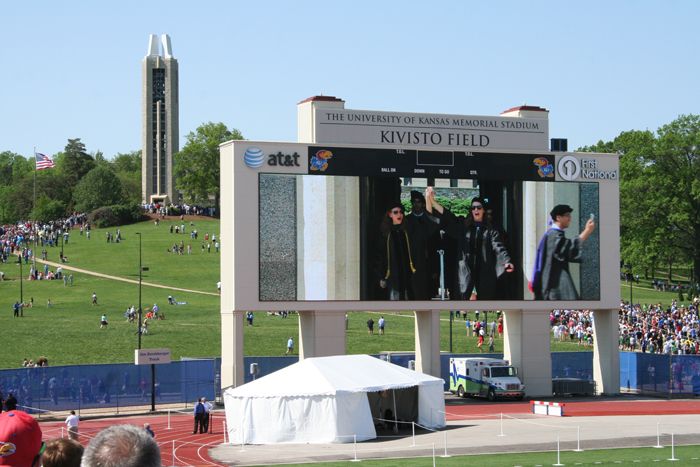 This was the photo that pushed me over the edge and made me dissolve into tears. My sister graduated from law school! And her best friend who I've known since they were 18-year-old freshman at K-State is a doctor! They worked so very hard, and it hasn't always been easy.
I'm so proud of Lauren. She's a brave, tough, smart kid and now has a J.D. after her name. I think this photo just says it all - it's my favorite memory of how cool it was to watch this all happen.